We Accept
San Mateo County Vouchers
Corporate Vouchers
SF Paratransit Vouchers

Client Testimonials
This company never fails to pick me up on time, take me where I need to go in the fastest and most economical route possible, and give me fantastic service. I even had an experience at one point where I didn't have enough cash to pay for the entire fare and dude was nice enough to waive it and take me all the way home.
- Aeone S.
Wheelchair Transportation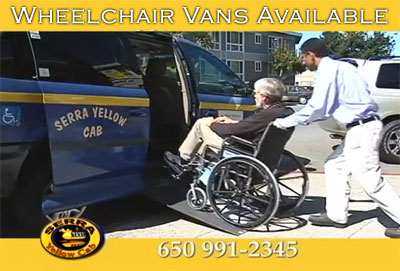 At Serra Yellow Cab, we offer the highest quality in ground transportation to those with special needs. We are dedicated to providing service that is not only prompt and professional, but kind and courteous as well.
Our services include:
Wheelchair Access Vans
Senior Citizen Discounts
Our fleet of vehicles is ready to take you exactly where you need to go. Let our competitive service meet and exceed your expectations.
For a reservation, please call 650-991-2345 / 650-342-1234 today.
Serra Yellow Cab
195 - 87th Street, Suite D
Daly City, CA 94015
650-991-2345